"Afrika Rea Bolela (Afrika Let's Talk): ARTiculating the Constitution" An art exhibition presented by the Bataki Kollective Women's Jail, Constitution Hill, corner Joubert and Kotze Streets Braamfontein, Johannesburg 8 – 29 April 2013
MEDIA PREVIEW:
Monday, 8 April 2013 at 2:00 pm. This will include a walkabout and a panel discussion presented by the artists, as well as refreshments.
FORMAL OPENING:
 Thursday, 11 April 2013 at 6 for 6:30 pm. Including speakers, multi-media entertainment, and refreshments.
Afrika Rea Bolela (Afrika Let's Talk): ARTiculating the Constitution is an exhibition by about 20 talented and committed emerging artists from greater Johannesburg who constitute the Bataki Kollective – a new artists' organization with big dreams and lots of creative energy. This exhibition is a collaborative venture between Constitution Hill, the Bataki Kollective, and Vula Amehlo Art Development.
The three partners
Constitution Hill is a national heritage site and home to the Constitutional Court of South Africa. This iconic venue, situated in the Johannesburg CBD, also includes the notorious Old Fort Prison Complex and Number 4 where South Africa's leading political activists, including Nelson Mandela and Mahatma Gandhi, were detained. Apart from its engaging and gripping exhibitions, Constitution Hill is open to the public for guided tours to the Women's Gaol museum, Number Four museum, and Old Fort museum. It has become an important platform for Heritage,
Education, and Tourism related programmes. Constitution Hill offers a variety of multipurpose venues, suitable for conferencing, performances, a large array of events and for public activities and programmes. It also aims to create a safe, interactive and fun environment to learn about Constitutionalism, Democracy and Human Rights, and to ultimately have a society that is constitution, human rights and democracy "wise".
Bataki Kollective (BK) is an exciting new artists' organization, formed in 2012, comprising about 20 emerging artists based in greater Johannesburg. Many of us come originally from other parts of South Africa and several members come from other African countries. We decided that an artists' collective would offer us more opportunities and also help to build a higher profile for us as artists. BK's mission (as adopted in our constitution) is to build an ongoing collective of like-minded visual art professionals who will create a nurturing environment where artists help each other to learn new techniques, to improve our work, and to succeed in the art world. We will use our joint and individual efforts to become successful professional artists with sustainable sources of income, through creating markets for our artwork and participating in other art-related activities. The collective commits to expanding and diversifying community participation in the visual arts.
Vula Amehlo Art Development was created in 2011 by Anne Gordon to focus on promoting the careers of emerging artists through curating exhibitions in both traditional gallery spaces and in other environments, and marketing their work in South Africa and elsewhere. Vula Amehlo – "open your eyes" – aims to assist in raising the artists' public profiles, selling their artwork, and developing their capacity to manage successful careers as full-time artists. Vula Amehlo has successfully presented four exhibitions in Johannesburg and Cape Town. Vula Amehlo has facilitated the creation of BK at the artists' request, and will continue to provide skills and mentoring as needed with a view to BK becoming a sustainable and effective arts organization.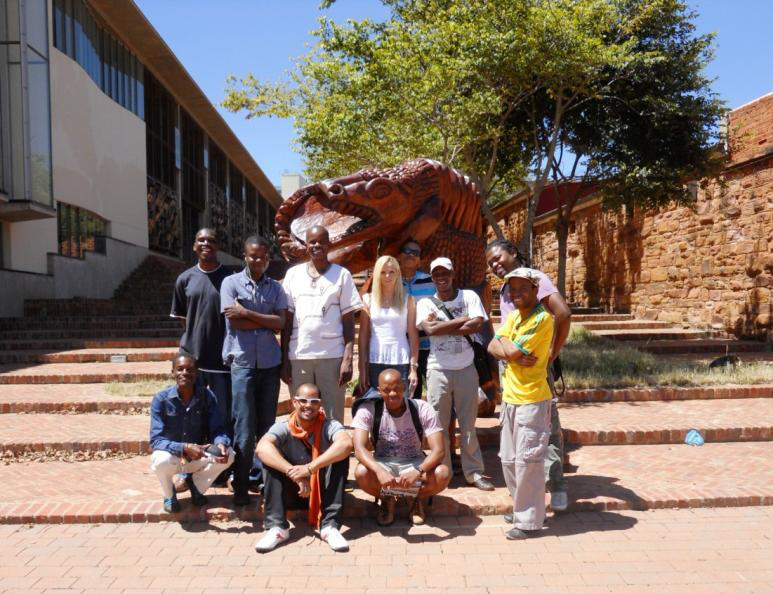 The exhibition
The aim of the exhibition is to stimulate discussion among the artists and between the artists and the viewers regarding how their art can reflect on the values that are embodied in the SA Constitution, especially the Bill of Rights and in the mission of Constitution Hill. ? The exhibition will attempt to point the way to the future – how we as artists can propose solutions to societal issues and "be the change we want to see". ? If we feel that the Constitution has not been implemented as the citizens of South Africa would wish, how does that need to change? ? We will use visual images in a wide range of mediums to demonstrate how art can become a catalyst for social and political activism – as artist/educator Vulindlela Nyoni recently called it, "the personal agency of the artist".
The title of the exhibition stems from our conviction that we will understand each other better and be better able to solve our mutual problems if we talk to each other in an ongoing process of open dialogue! Yes, we may provoke controversy, and perhaps speak truth to power, but that is normal behaviour in a democracy!
The context
This exhibition is hugely relevant in the context of recent "culture wars" affecting the visual arts sector in South Africa such as the public, media and government reactions to Brett Murray's "Spear", Zanele Muholi's photographic exhibition of Black lesbians and female sexuality, and Jonathan Shapiro's cartoon images of President Jacob Zuma. Many more examples of such culture wars abound (see Steven Dubin's book, Spear-heading Debate: Culture Wars and Uneasy Truces, Jacana, 2012). The right to freedom of expression in this country is perceived by many to be under serious threat.
A recent public forum sponsored by the Arterial Network entitled "When do artists go too far and when do we not go far enough?" was another reflection of artists' concerns about how best to make a constructive contribution to our democracy. One speaker asked "What defines normality in such a diverse society as ours?" Why is it not possible for society to accept the diversity of artistic expression, without necessarily "liking" all of it? Why are so many artists and so much artwork excluded from the visual arts mainstream? Why are they punished for not compromising their own moral values or for disagreeing with those of others? Artists must have the space to push the boundaries of freedom of expression and at the same time take responsibility for their art.
South Africa's cultural life and heritage is an ongoing project. It is not simply a relic of pre-colonialism, a product of Western colonial influence, a mish-mash of our South African differences, or a mere reflection of our globalized world. It should not be perceived as a fight for privilege or power between races or cultures, between tradition and modernity. It is and will be what we – the artists of today in all our diversity — make of it. The art collection at the Constitutional Court is an excellent showcase of what is possible, and we expect that our exhibition will be too. Recent political debates regarding key provisions of the SA Constitution such as the independence of the judiciary, accountability and corruption in the public service, and service delivery failures in many sectors of our society, have prompted much soul-searching amongst the youth, artists of all kinds, the media, academia, political parties, and millions of ordinary South African citizens as to whether our country has lost its way.
It is necessary for us to ask whether the ordinary people of this country even remember what the Constitution says about the rights and responsibilities of citizenship. Do they rely too much on government to solve their problems rather that creating their own solutions? In 1996 and for some time thereafter, hard copies of the new SA Constitution were easily available. Civic education was briefly on the government's and international donor's agenda. That is no longer the case. We need to re-educate our adult population and create a new generation of young people who understand the duties of civic participation as well as the Bill of Rights – on this basis, they will have the tools to create our positive future.
Education, process, and collaboration
This exhibition is as much about education and process as it is about creating art. In addition to our individual artworks, each artist is partnering with one other artist to produce a collaborative artwork for the exhibition. We hope that this will not only deepen our understanding of the Constitution through dialogue with each other, but also provide an opportunity for us to share knowledge about our respective artistic mediums and grow as artists in the process. The artist members of BK are paying membership fees toward the costs of the exhibition and are actively participating in the planning and implementation of this exhibition. We have formed three committees: curatorial, educational, and marketing / fundraising. The process leading to the exhibition will build our individual and organizational capabilities for the future. The exhibition will be accompanied by various other activities presented by the artists. In collaboration with Constitution Hill, we will be organizing educational workshops for high school learners. These workshops will be facilitated by the artists, all of whom have experience in arts education. We will combine reference to the Department of Education's 2011 Visual Arts curriculum for Grades 10, 11 and 12, with walkabouts through our exhibition and a creative hands-on art project allowing the learners to express their own response to the issues raised in the show. Impromptu walkabouts will be conducted by artists during the week, and there will be formal scheduled walkabouts each Saturday (13, 20 and 27 April) at 11 am throughout the exhibition period.
High resolution images of artworks for the exhibition will become available from the 18th March. For more urgent requests for images, or for further information about Bataki Kollective, Vula Amehlo Art Development, the exhibition and the individual artists, or special group requests for walkabouts, please contact batakikollective@gmail.com or vulaamehloart@gmail.com.
For more information or directions to Constitution Hill, please contact: Tel: 011 381 3100 Email: info@constitutionhill.org.za Website: www.constitutionhill.org.za Facebook: Facebook.com/Constitution.Hill Twitter:@Visit_Con_Hill
Afrika Rea Bolela (Afrika Let's Talk): ARTiculating the Constitution - Press Release

,