Johannesburg, South Africa – ShakeXperience in association with the Market Theatre will be present 'Animal Farm';  a South African adaptation of George Orwell's novel, from the 25 August to the 6 September 2015.  Showcasing during Women's and Heritage's month, the play explores leadership, power and features an all-female cast. The adaptation is an allegory of the South African society. It keeps the audience on hold by playing between comedy (references to Nkandla's fire pool) and deeply tragic moments (references to the Marikana massacre).
The production recently scooped two 2014 Naledi Theatre Awards including 'Best Production for Young Audiences' and 'Best Ensemble.' The award winning cast includes Mpume Mthombeni and Tshego Khutsoane, Mandisa Nduna, Khutjo Bakunzi-Greed, Zesuliwe Hadebe and MoMo Matsunyane.  Adapted, directed and designed by Neil Coppen. Choreography by Daniel Buckland, Lighting by Tina LeRoux, Costume by Neil Coppen and Thando Lobese.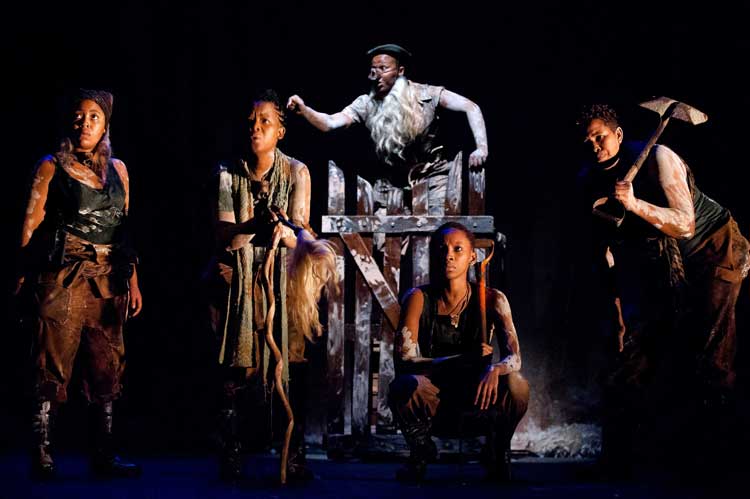 Animal Farm runs at the Market Theatre, Dr John Kani Theatre for a limited engagement from the 25 August to the 6 September 2015. Preview is on 25 August, and Opening night is on 26 August. Tickets are available at computicket.
"I couldn't agree more about the "uniquely" South African slant. I watched the production in Pietermaritzburg a week ago and was struck by how absolutely relevant it is to our political context. The play cleverly articulates the journey beginning with the hope and promise of a better future to the deep disillusionment experienced when at the expected time of harvest, the fruits of freedom and equality remain inaccessible to ordinary people…(…) You sit in the theatre and think, "Yes, it's a deeper cut when you are betrayed and then oppressed by one of your own." (…)For me, the play is also a lamentation of sorts- a cry from somewhere deep within, somewhere only the language of the body in art can articulate..(…) It is heart-breaking. It is hilarious." Ayanda Khala-Phiri; Drama Lecturer at University of Kwazulu-Natal, Pietermaritzburg.
"Animal Farm is a triumphant production that not only holds the audience enthralled, but also allows the story to unfold with an excellent degree of pace, a handle on the elements of surprise and climax, a balanced blend of dark and light, a sharpness of wit and a nod to the theatre of the absurd. It is truly a rounded cultural experience that feeds the imagination, the intellect and the creative soul. Featuring a superb acting by female ensemble and innovative and powerful staging, Coppen can claim a feather in his theatre practitioner cap with his beautifully realised production " Gisele Turner; Going Places Magazine.