Rapper, song writer and music producer born and raised in Maputo, Mozambique who relocated to South Africa at the age of 12 years to continue his studies in Nelspruit, Mpumalanga.
Music has always played a fundamental role in his life, being introduced to rap music at a tender age, Blaze 5th was initially influenced by Hip-Hop icons such as Snoop Dogg, Boot Camp Click, Black Company, Nas, Method Man and Dead Prez just to name a few. Upon moving from Mozambique to South Africa, Blaze 5th found himself writing his first rhymes as a means of entertainment and as a catalyst in learning the English language. In Nelspruit, South Africa together with his friend Syndicate they formed their group Urban Basement later adopted the monicker U.B.M. which stands for Urban Basement Monk. He later relocated to Cape Town in 2004 to complete Matric and later enroll in College to study Interior Design, a pivotal occurrence as this contributed immensely to the musical maturation and new found adoration for beat making, which gave birth to production alter ego Lion Green.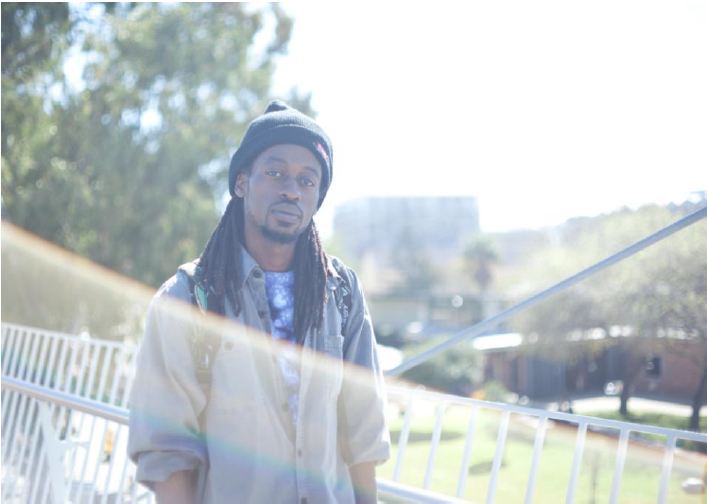 His early years in Cape Town exposed him to all the elements of Hip-Hop and he quickly became a student of the culture, affiliated with new friends whom became part of the U.B.M. movement and they began working on mixtapes. His first shows were with H.C. who is a rapper from Mozambique based in Cape Town. As the U.B.M. movement grew from strength to strength solo projects started to emerge within the crew as well as collective efforts from the group. With the U.B.M. movement gaining traction and their sound organically reaching Hip-Hop heads and appreciators, Blaze 5th began performing as a member of the U.B.M. collective and as a solo artist. Performing in events such as Lyrical District, Kool Out Lounge and Culture Clash, as well as being part of the Heavy Words TV cipher "Cape Town's Finest".
Blaze 5th has also had the privilege of performing in Mozambique at Café Gil Vicente and Ambientes Bar in Maputo, as an opening act for a few local artists such as Rage, as well as performing alongside The Mute Band, being the first rapper to ever work with the band. In 2016 he performed in Marseille, France for a Hip-Hop and Reggae show organized by HMC, a French collective of DJ's and event organizers. While in France he participated on a video cipher presented by Coup De Pioche alongside French rappers Fayçal, LAX, Original Tonio and more.
His body of work to date consists of solo projects namely"Rough Cut Tape", "Green House Project EP" which was entirely produced by him as Lion Green and the latest free solo album titled "Emotions in Motion". As part of the Urban Basement Monks he has featured extensivelyon "Monk Business" Vol.1 and 2, has released the "Mila Green EP" alongside U.B.M. member M.ilaand "All Nite Godly EP" with U.B.M. member Postman L.
In South Africa, he has worked with artist such as Bonzaya, Def Eff, Rellik, Johnny Filter, Two Point Owe, Shorty T and Intellektu (Angola).He has made noticeable appearances on projects titled "In Cahoots" produced entirely by Johnny Filter and on an EP titled "Malmo x Stuttgart EP" produced by the producer duo Jungle Bunnies based in Sweden and Germany. In Mozambique, he has worked with Sick Brain, Bio Sense, Mak Da P and more. He has also collaborated with the California based, AmericanproducerClypto and Marseille based, French DJ and beatmaker Deedy on a beat tape andvarioussongs.
Blaze 5th is also a founding member of a collective of producers by the name of Fam Pack, whom to date have released "Eat Your Veggies" and "Balcony Music" beat tapes, both currently available on SoundCloud.
Videos
Music
Past Performances
Culture Clash (Forex) – Cape Town, South Africa
Kool Out Lounge (Waiting Room) – Cape Town, SA
Lyrical District – Cape Town, SA
Cafe Gil Vicente – Maputo, Mozambique
Ascendente Bar – Maputo, Mozambique
Club 169 – Cape Town, SA
Soul Craft (Sergt. Pepper) – Cape Town, SA
Maitland Hall – Cape Town, SA
ICMA Poetry Nights – Maputo, Mozambique
Ambientes Bar – Maputo, Mozambique
Chilling Club – Maputo, Mozambique
Le Chaudron- Marseille, France
Stones (Kuilsriver) – Cape Town, SA
Abbotts College – Cape Town, SA
Press
South Africa based rapper/producer Blaze 5th "Green House Project"has a soulful, sample based boom bap hip hop sound to it. Make sure you download it, its great Music!!
Novex Africa

Getting crazy in the Cape of good dope! You get these quite periods where you cant find any quality music and then all of a sudden there's a flood of releases… and if its goodness like this, its always gonna get support. UBM keeps it moving… close on the heels of "All Nite Godly" EP, comes Blaze's video for 5th Dimensional.
Word Up eZine Blog
http://wordupezine.blogspot.co.za/2016/07/music-blaze-5th-5th-dimensional_26.html?m=1
Emotions In Motion is the follow up to Blaze 5th's previous solo project Greenhouse Project EP
Kool Out Concepts

South African Postman L & Mozambican Blaze 5th have linked on a song titled Press Record. The track is set to appear on their upcoming EP titled All Nite Godly.
Music Afric
SouthAfrica: Mozambique: Music: Postman L & Blaze 5th – Press Record + Paid In Full

Was gonna say the UBM are at it again but truth be told they don't stop grinding and the result is… Monk Biz Vol.2
Word Up eZine Blog
http://wordupezine.blogspot.com/2016/01/music-urban-basement-monk-monk-biz-vol-2.html
Johnny Filter Presents
http://johnnyfilterpresents.blogspot.com/search?q=blaze+5th
Social Media
https://www.facebook.com/blaze5th/
https://twitter.com/Blaze5th
https://www.instagram.com/blaze5th/
https://www.youtube.com/user/leonel3948
Contacts
Email: blaze5thmusic@gmail.com
Phone: (+258) 84 665 2137