Miriam Makeba is undoubtedly one of the continent's most famous and prized exports. Though it was through her music that she first went to the UK, and eventually settled in the US, it was her very verbal stance against the injustice of the Apartheid regime, as well as her unapologetic refusal to assimilate into Western fashions of straightening the hair, wearing cosmetic make up, and the latest trends of the 50s and 60s, that ultimately saw her lauded as 'Mama Africa'. She represented black femininity in a way that had scarcely been seen before; she exuded African female sensuality that was not presented as 'the hypersexed black Venus' as had been propagated for centuries in the West.
Miriam Makeba moved to the US in 1959, there she was to launch an international career yet unmatched by any other African women of the time. As a close friend and mentee of Harry Belafonte, she underwent a transformation of sorts from township songstress- as she had come to be known in Johannesburg- to a classy folk chanteuse that could be marketed to black and white American audiences alike. Her presence in America was not without controversy however, she used her celebrity to highlight the racial unrest in South Africa, came to symbolize the parallels between the African American and the South African racial injustices, eventually marrying Black Panther activist Stokely Carmichael, and her very appearance was an affront to the Eurocentric beauty ideals of the day. In fact she arguably was one of the first to bring into fashion the iconic 'Afro' that came to represent the African American struggle, she is quoted as having said 'I see other black women imitating my style, which is no style at all but just letting our hair be itself.  They call it the Afro look'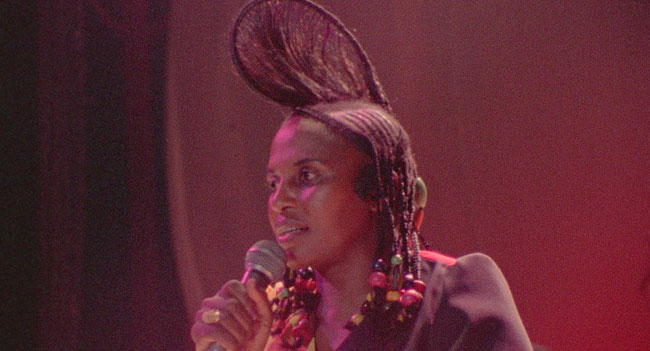 In just as much as it was a means to appear 'assimilated' and 'modern' for African American women to use perms and irons to straighten their hair in the 50s and early 60s, it was equally an attempt to distinguish one's self as modern and urban for black township dwellers in Johannesburg to straighten their hair, and wear clothing imported from America and Europe. Yet the fact that with all of these influences, young Miriam held so steadfastly to her own sense of self and ethnic pride that she refused to alter her natural hair, is a testament to her strong willed nature and assertion of who she was. She was unwavering in her truth, even when it was dangerous to do so, she was deeply rooted, yet embraced a global outlook, and mixed together styles from her travels. The terms feminist and afropolitan could not be more fitting.
With her marriage to Black Panther activist Stokely Carmichael in 1968, came the decline of her career in the US. The Black Panthers were feared by white America and were seen as violent and dangerous, so 36 year old Miriam was dropped by her label, and had shows and tours cancelled- as a result they moved to Guinea. The 70s marked a brand new era for Mama Africa's style; she undoubtedly was inspired by the braided and beaded West African hairstyles that the women in Guinea wore, thus further distinguishing herself as proud of her African heritage. From braids with big colorful beads dangling down her neck, to all manner of cornrow patterns going backwards and forwards, she undoubtedly was then, and still is now, a natural hair inspiration for many.
The 80s and 90s saw Mama Africa retreating to the simple close cropped hair with which she rose to fame- the hairstyle that characterizes South African women in general. Soft spoken and eloquent, and a life wrought with tragedy, yet Mama Miriam Makeba remained a stalwart of the struggle. No matter where in the world she was, her voice could not be muted, and though she thought of herself not as an activist, but simply as speaking her truth, she spoke for so many who couldn't, and she exposed to the world a kind of beauty that was not celebrated. Even though beauty standards are still following the beaten path of so many decades past, we can look to women like Mama Miriam Makeba as an example of how to be fiercely in your truth, and authentically beautiful in your own skin.