"For decades people living with disabilities have been excluded from the economic mainstream of our country and only limited to charitable causes. "
Definition of People living with disabilities as per the CODE OF GOOD PRACTICE ON KEY ASPECTS OF DISABILITY IN THE WORKPLACE
The scope of protection for people with disabilities in employment focuses on the effect of a disability on the person in relation to the working environment, and not on the diagnosis of the impairment.
Only people who satisfy all the criteria in the definition:
(i) long-term or recurring; (ii) having a physical or mental impairment; (iii) which substantially limits,
Are considered as persons with disabilities.
Beyond Ability Talent Solutions specialises with the Recruitment and Placement of People living with disabilities into formal employment. This we do through strategic partnerships with Disability Matter organisations and equal opportunity employers.
Our mission is to truly transform every workplace in South Africa by ensuring that:
Every small, macro, medium or larger employer complies with the Employment Equity Act and has reasonably accommodated people living with disabilities in their workforce as per their Employment Equity Targets.
We emancipate people living with disabilities by assisting them with obtaining quality jobs and ideal working environments in all levels of organisational hierarchies.
Ensure that Companies achieve their numerical Equity Plan targets
A company diversifies its workforce while gaining a competitive advantage and attracting and retaining the right to best skills.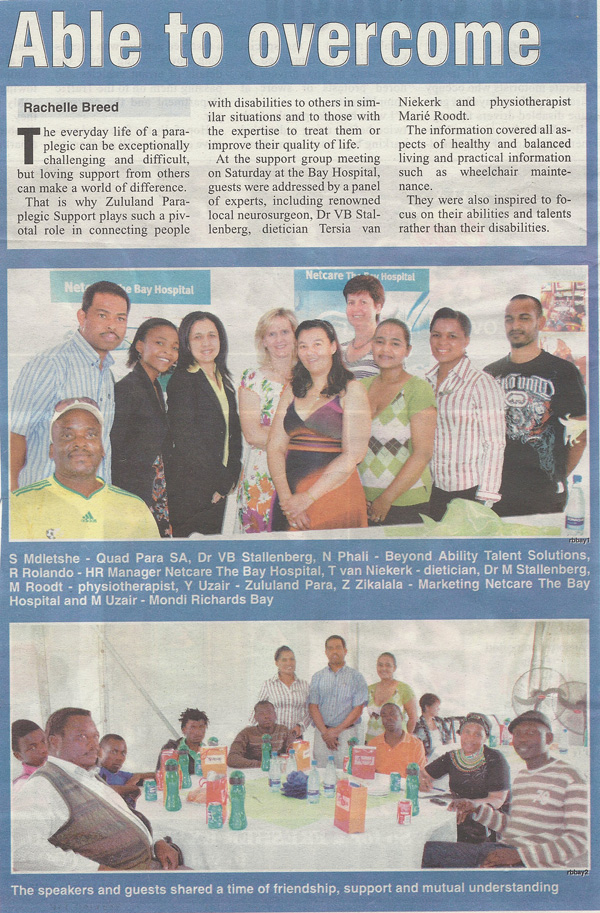 Our Vision
To achieve a truly diverse South African workforce.
Our Mission
To economically emancipate people living with Disabilities by assisting them with securing good quality jobs and ideal working environments.
Provide an indispensable calibre of extraordinary talent with the speed and precision that today's business demands
To constantly combine our business strategy to modern technology so as to enhance efficiency, productivity and competence in the field.
Provide a consultative, creative and strategic approach to talent acquisition of people with disabilities.
To observe fair Labour practises and comply with all regulatory and statutory requirements of all the relevant government and industry bodies.
Deliver World Class Customer Service Excellence equally to our Internal and External Customers.
To be a one stop shop for Disability Solutions A leading & integral, strategic supplier of talent.
We Value:
Talent before disability
Diversity
Pride
Consistency and Reliability
Accountability
Excellence & Professionalism
Integrity & Compliance
Equality
Respect for our people and communities
Teamwork & Fellowship
Innovation& Advancement
Technology harmonized with business strategy
Service Offering
Recruitment and placement of skilled people with disabilities into formal jobs (permanent)
Client consulting services on job design for people with disabilities Sensitivity and diversity training
Employment equity/workplace forum consultations on disability matter subjects.
Employment equity reporting Learnership management (pwd projects) Referral services and resource centre for people with disabilities.
Distributor of assistive devices, mobility solutions equipment, aids and/or resources to clients.
Career management, mapping and pathing services to careerseekers with disabilities
Branch Network – Johannesburg
We are currently situated in Gauteng with a South African National Footprint. We have established national strategic partnerships with key Disability Matter organisations in all South African Provinces allowing us to comfortably service all 9 South African Provinces.
Accolades and Recognition
2010 National Small Business Chamber-(NSBC) Champion 2nd Runner up
Finalist 2010 Raizcorp Prosperator-Richards Bay, KZN
2010 Business Launchpad Finalist
2011 Shanduka Black Umbrella Prosperator
SAB Kickstart KZN ECR Class of 2011 2nd Runner up Finalist
 2012 Ikusasa Awards Best Use of Advocacy Winner 2012 Mail and Guardian Top 200 Young South African Nominee
"The only Disability is the Inability to see Ability"
_______
Our Contacts
Ntsoaki Phali – Managing Member
Member Beyond Ability Talent Solutions
Tel: 011 026 9001
Cell: 081 338 1255
Fax: 086 569 7442
Skype name: ntsoaki.phali
Company profile - Beyond ability talent solutions

,