THE UNIVERSITY OF PRETORIA DRAMA DEPARTMENT PRESENTS
HAIR & COMB
Directed by Napo Masheane
HAIR & COMB is set against an urban city backdrop is auniquely contemporary South African play.A hair salon for most people severs asa melting pot for many social and personal topics. HAIR & COMB allow us totap into the lives of different characters in and out of the Hair Salon. And weas the audience witness each characters journey, their fears, pain, andstruggles as we share in their dreams.We learn about survival in the hair business, we see the value of friendshipand the breakdown of communities. We are exposed to the realities of a newSouth Africa and its emerging issues: the new money, xenophobia, sexuality,race, gender, beauty, image, relationships, friendships, love and HAIR.'Hair' in this play, in a metaphorical sense, is used for what liesbehind the look, the obsession and generally accepted notion ofbeauty and its madness.

HAIR AND COMB tells the rich cultural textures ofSouth Africa and its people, as it wittingly weds opinions and perspectives inpublic spaces.
Acclaimed director, poet, actress and producer NapoMasheane made her mark as a multi-skilled theatre artist on both internationaland national stages. A founding member of Feela Sista! Spoken Word Collective,she is also the director of her own company Village Gossip Productions. ). Someof Napo's previous directing projects include My Bum Is Genetic Deal withit (2007), Fat black women sing (2008), and Mollo -the woman in me (2010). Thisproduction is the first multicultural cast to journey with Napo. Do not missthis vibrant, fun, thought-provoking play!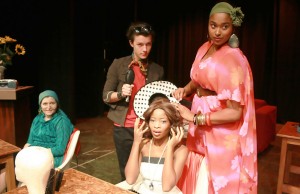 WEAR YOUR HAIR – IT DOESN'T DEFINE YOU!
DATES: 3- 7 May 2011
VENUE: The Masker Theatre (UP Main Campus)
TIME: 19h00
PRICE: Students R25; Block Bookings R30; AdultsR35.
BOOKINGS: Yvonne 012-4202558 or at the door.
For further information please contact TebohoMotloung (0768485973
hlomelangtm@gmail.com)OR Thuli Mabaso (0783712625
productions.village@gmail.com)