Transmitting platforms, broadcasters and social spaces are at the helm of feeding the cybernaut, along with riff raff inhabitant's preconceived ideas with recurring presets. An insatiable palate has marred multiple quintessential tenets of the medium. In many instances, when these tools should have been utilized as advocacies of permeating principles of reality in order to effect logic where it is inescapable. They have in incessantness, continued to beget throngs of pedantic and self-satisfied consumers. However, in lieu of being frustrated by tedious, monotonous formats and distorted verities, a conglomerate of thespians from crevices of the continent, abroad and here at home, have identified a need for real artistic motion pictures.
The primary objective is a state of readiness imputed by their artistic productions that a will to light a fire under the global village, has the facility to promulgate and give an account of our stories in a spectrum that not only resonates with the heart of our communities, but also to demystify certain misconceptions and stereotypes.
In turn, this notion, has catapulted them to into uncharted waters, further than their compendium and geographical settings, propelling them to produce truthful and uncompromised content. At the Second Rapid Lion South African International Film Festival, film makers amended the aesthetics of local content and the thought has been perceptible.
The happening is a festival made to showcase local films that are capable of competing at global stages and improving the industries level of attainment, albeit fostering relations with other regions. In essence, the festivity is an interval for countries to learn the characteristics of different societies and exchange culturesheds.
Kicking off with an evening acknowledging the impeccable work presented by film creators, the nominees and award winners' work was showcased throughout the duration of the festival. Of the deserving many, Moonyeenn Lee was honoured with the Lifetime Achievement Award named after Lionel Ngakane an unremitting backer who has played a fundamental role in the growth of South African film industry in its entirety. Lee has brought to local screens a galaxy of actors, directors and personalities including Terry Pheto, Vusi Kunene and numerous others.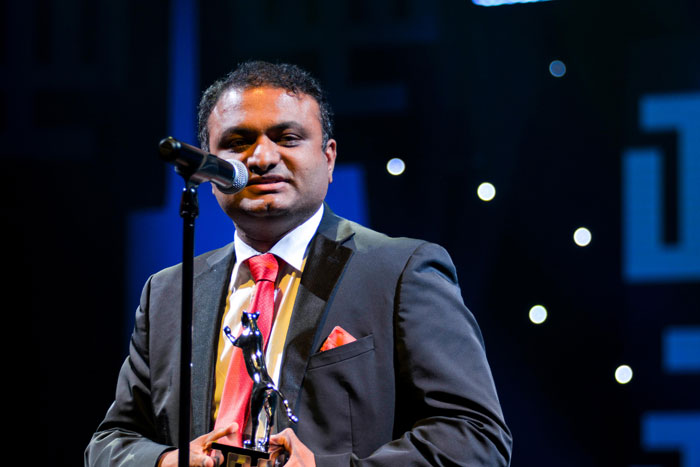 India tallied stacks of awards for the classic Bajirao Mastani scooping awards in Best Overall, Best Producer and Best of BRICS (since the awards nominees selected from the constituencies of the entrants). Trailblazer Sanjay Leela Bhansali has redefined the epitome of Bollywood presentations. It is about a warrior that has never lost a battle, only to lose it between his family and spouse when his siblings refuse acceptance his new life partner, considered as a mistress on the grounds of customs and interweaved traditions. Premiering in Africa, Skulls of my People is an unsung heartfelt dirge for the Namibian Ova Herero tribe by Vincent Moloi. They documented the inhumane awkwardness committed by the German Government under the Extermination Order, where a genocide, and atrocities on human lives were witnessed, and a large part of the population was beheaded for fighting against forceful land occupation. At the crux of a sensitive conversation is the significance and depth of land ownership. Once land is taken away from its people their existence and identity is removed.
A compelling piece, An Essay on Electoral Fraud, sees a life sacrificed, when a calculating imaginative researcher uncovers the most clandestine corruption generating formula that led an to ultimate win for former Spanish Head of State, Joa Soares, through vote rigging. Fate got its way; the explorer got killed before the documentary was publicized.

Another award winning South African film is Noem my Skollie (Call me Skollie) directed by Daryne Joshua based on a true story on the life of the playwright John.W.Fredrick. It depicts a rare scenario, not familiar to us, about Cape Town and its surrounding townships. It highlights the bearings of gangsterism and the pestilence of trying to finding a sense of belonging, around voluntary inter relations filled with deceit, murder, and scrambling the pieces of living life, after and during being thrown in the nick. Without a doubt, it appeals across all creeds and colours.
Well, a tinge of an ecclesiastic facet of an event tends to touch patrons. The thought evoking and soul stirring Marina Abramovic, walked in The Space Between with the practical statements and means of finding our life forces, bridging different religions and beliefs while communicating with the physical and spiritual realms. Here, she delves into giving the tools of serenity to the public, in detail, without neglecting the urban spaces.
Concluding the festival was the handing over of the inaugural Special Focus Award to Ashad Sikhandar for tackling the uglesome and disdainful head of xenophobia in The Refugee, a trait erupting worldwide, even amongst our own citizens.
With the growth of the festival inevitable, the best is yet to manifest itself; diversity is an attribute and the embodiment of our populace.
For a while, certain subjects and matters are yet to be addressed, not because they are not a correlation of our lives, but rather it is the implication and outcomes that are a concern. The evident convergence of emerging, well established personalities, independent film makers and consumers sight an awakening by taking back an aspect that has shaped our lives. Not so long ago, the arrival of the internet was venerated and created apprehension, but not for the Cherub that understands its influence. The distribution of accurate information and disbursing of the right knowledge by people in the know has made it feasible for younger persons to have bouts of interaction on tribunes with a capacity to reach multitudes of different minds and those who are able to deduce and give solutions about variable propositions.
Behold, as the lioness looks out for her cubs, to infinity and beyond.
Spreading the dispersion of visual imagery

,