As La Furia Roja left on the morning after their crowning as champions of the world on the 12 July 2010 they ostensibly left a country flooded with withdrawal symptoms, a country also on a crossroad and as the end has come we know this prestigious tournament will forever be etched on the hearts of South Africans and even some of the most apathetic citizens to the game of football. Poised, South Africans are reminiscent of that day Sepp Blatter promulgated that the 2010 World Cup would be staged in this country.
As Shakira and Freshly Ground took to the stage for the closing ceremony one could not help but be emotional, as for the past month – we have been patrons to this country and we have kind of forgotten the antonyms of this country, that are so juxtaposed to live in a bubble of the 2010 elation and even the most stoic citizens have come to be infected by this elation as Fan Parks and Fan Fests have been filled by eager plebeians and entertainers. As my favourite World Cup song played Sign Of a Victory and the Spanish held that trophy it was such a defining moment as first-time host and first-time winners felt a surge of joy and achievement. A country has been left proud to have been host to a conspicuous World Cup as spectacular as any ever held before, a country is left wondering if the streams of patriotism will continue beyond this, or whether our tourism sector will multiply as it did in Germany and Korea who were previous hosts within this "new millennium".
Spain who are currently number one, surrogate to Brazil who were firm favourites but crashed out to Netherlands in Last 16 stage. Brazil looked quite dominant in the first half of that game and managed to take the lead going in to half-time, but looked nonchalant in the latter half of the game and got punished for their regression. The Dutch capitalised on a number of unforced errors and a red card to oust the Samba Boys; and marched on to face another South American rival in the very spirited Uruguay. La Celeste and Oranje were at hammer and tong to showcase a nail biting game which saw the first goal from a very unlikely source in no other than Giovanni Van Bronckhorst who hit the back of a net with a scorcher some of the game's biggest goal poachers would be proud of, and the game eventually concluded with 3-2 score line.
Uruguay ended up being 4th in tournament and enemy number one in the continent for killing the African dream. Person non grata Luis Suarez would have pardoned the fans for booing him so much when they met the Germans for the 3rd and 4th play-offs for a handball that denied Ghana what would have been a winning goal. Ghana had their fate in their own hands as they were awarded a penalty but floundered and got further into the mire and eventually sank. The resilience of Uruguay would again be visible in their match against the Germans however De Mannschaft proved too strong.
Spain booked their final spot by beating De Mannschaft who will hold their head very high as they came into this World Cup in a very ominous light, as they were a very young side who were being coached by a coach people didn't really believe in. Rumours that Phillip Lahm doesn't want to step down as captain even when Michael Ballack comes back were news that came out of the German camp before that game, and that sour note perpetuated in the absence of young Thomas Muller and eventually Germans were ousted but not before they mortified some tournament favourites in the form Argentina with a 4-0 score line.
A match between virgins Spain and Netherlands would not only ensure a first-timer but that the trophy would stay in Europe. The Final game was not the most entertaining game ever,  it was dominated by the referee Howard Webb's whistle as players infringed on each other constantly more so the Dutch than the Spanish. Webb tried to be as sensible as possible in the game but he was no doubt overly benevolent in just issuing a yellow card to Nigel De Jong for Kung-Fu kick on Xabi Alonso right on the chest. The game did have some clear cut opportunities for some of the most reliable players in world football who squandered them. Arjen Robben, Cesc Fabregas and Joan Capdevilla could have prevented the game from going into extra-time had they rendered the midas touch.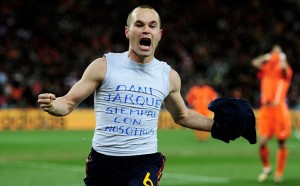 Andries Iniesta would determine the champions in the second half of extra-time by connecting with his prospective Barcelona team-mate Cesc Fabregas. He celebrated by taking his jersey off to salute the late Dani Jarque. The game ended and Spanish players put on their home strip red jerseys with the one star symbolising being champions then the festivities began as they were handed the Holy-Grail. Alluring fireworks erupted in the township of Soweto and razzmatazz was palpable till the early morning.
As Phillip has descended with the Spanish or passed away which ever one tickles your fancy we have to come back to reality and we have to leave with the hangover of the World Cup. The success of this hosting has galvanised thoughts we should try to bid for the Olympics as we did to host the 2002 games that eventually took place in Sydney. The optimism might be dead by next week as talks about Xenophobic threats have re surfaced, Sadly we also have reverted back to SAFA politics and will see whether Pitso Mosimane takes over the very destitute Bafana.