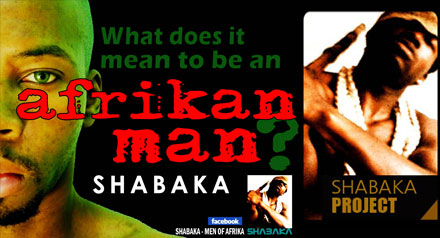 Activities include seminars, workshops, camps and training programmes. The name SHABAKA is from a great Pharaoh who around 700 B.C. reunited Kemet (Egypt), Nubia (Sudan) and Kush (Ethiopia) after many years of decline in the Nile Valley area.
SHABAKA is a program that seeks to respond to some of the many contemporary challenges concerning Afrikan men: Low self esteem, unemployment crime, lack of cultural integrity, violence, substance abuse, unhealthy life styles and suicide.
A large number of Afrikan men get caught up in a negative circle of thought and behaviour with grave consequences not only for themselves, but for their families and the communities in which they live. The SHABAKA program provides a platform for men of different age groups to heal, develop and prosper. And, not the least, empower them in their quest to make healthy choices.
________________
Shabaka – Men of Afrika is an initiative for and by Afrikan men focusing on empowering our selves, our families and communities. Several activities will be hosted in 2012: Black Men's Lekgotla are seminars that will be hosted in communities near Johannesburg and Tshwane. Also, there will be two Brothers' Conventions in each city – these are conferences with great speakers and practical workshops.
All these events are strictly for Brothers. But, rest assured, KANDAKA – Women of Afrika is under development and will soon start events for Sisters.
SHABAKA – Men of Afrika Facebook Group: http://www.facebook.com/groups/197738272066/?ref=ts 
More info:  011 487 3307 / 074 690 4012 / pitsi@ebukhosinisolutions.co.za
BLACK MEN'S LEKGOTLA IN JOHANNESBURG REGION
10th March, Black Men's Lekgotla, Daveyton, East Rand (JHB-region)
12th May, Brothers' Convention, JHB CBD
2nd June, Black Men's Lekgotla, Orange Farm (JHB-region)
4th August, Black Men's Lekgotla, Hillbrow (JHB-region)
13th October, Brothers' Convention, JHB CBD
3rd November, Black Men's Lekgotla, Soweto (JHB-region)
BLACK MEN'S LEGKOTLA IN TSHWANE REGION
7th April, Black Men's Lekgotla, Soshanguve/Mabopane (Tshwane-region)
5th May, Brothers' Convention, Tshwane CBD
7th July, Black Men's Lekgotla, Atteridgeville (Tshwane-region)
1st September, (special lekgotla session, Sunnyside) (Tshwane-region)
6th October, Brothers' Convention, Tshwane CBD
1st December, Black Men's Lekgotla, Mamelodi (Tshwane-region)
What does it mean to be an Afrikan Man? (Shabaka 2012)

,