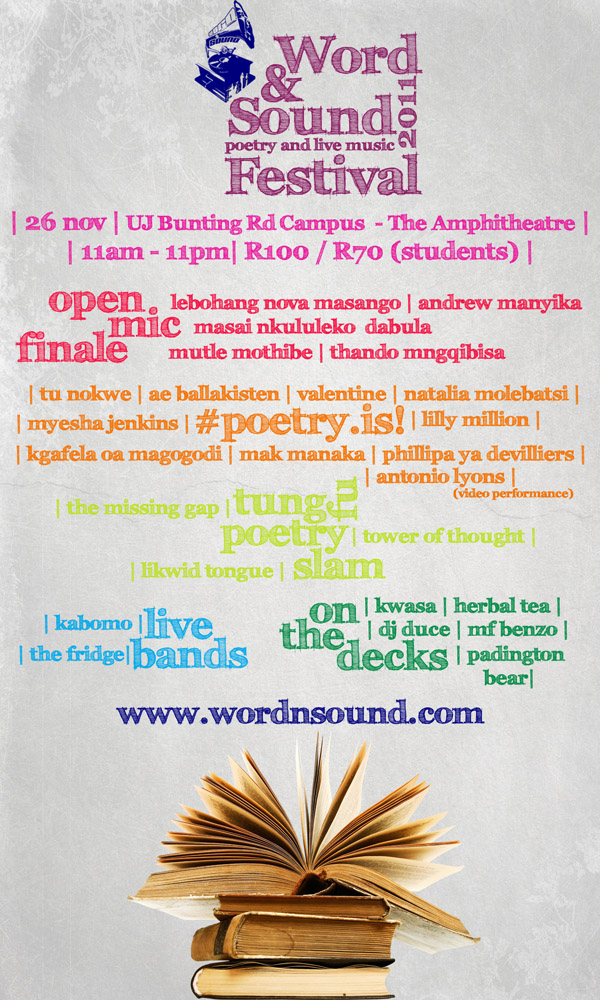 26 November 2011
11:00 – 23:00
The Amphitheater – University of Johannesburg, Bunting Road Campus – Auckland Park
R100 and R70 (students) – available at the door
Headline artists: Tu Nokwe, Kgafela Oa Magogodi, Ae Ballakisten, Phillippa Yaa de Villiers, The Fridge, Kabomo (Metro FM Music Awards 2011 finalist), Mak Manaka, Natalia Molebatsi, Vallentine Kekana, Myesha Jenkins, Lilly Million, Antonio Lyons (Video performance), Liquid Tongue, Tower Of Thought, The MissinGap + The Word N Sound Open Mic Challenge Finale and the TUNGFU Poetry Slam
The first installment of the Word N Sound Poetry and Live Music Festival will revolutionize the local poetry and performance scene when it takes to centre stage on 26 November 2011 at the Amphitheatre – Bunting Road Campus of the University of Johannesburg.
The festival is an all day celebration of the written and spoken word and the spectrum of sound that give life to the art of language. Comprising four main segments, the festival aims at creating a multi-sensory experience for all those who love the written and spoken word, including academic literature enthusiasts, performance poetry fanatics and the uncompromising live music loyalists.
"I have never seen poetry done like this. The entertainment value is just as important as the content. It will be an icon word and sound festival" says Thabiso Mohare – Festival co-founder and producer
The day's program will include;
Word N Sound Creative Market – A creative lifestyle market littered with books, music, crafts, fashion, jewellery, food and all things artsy fartsy. The market will open at 11am and close at 5pm.
Word N Sound Open Mic Challenge Finale (12- 3pm) – The show marks the apex of a 6 month long open mic challenge that has seen over 50 emerging writers and poets battling it out for the Open Mic Champion title and a trip Baltimore in 2012 to participate in a landmark poetry exchange program. 5 Finalist will duel word for the tile and main prize. The 3 piece break out band – The Fridge will also make their highly anticipated return to the Word N Sound stage.
Kabomo (Metro FM Music Awards 2011 nominee) will create a beautiful bridge between the Open Mic Finale and the Slam, with his sultry RNB and neo soul melodys before dashing off to hopefully receive a Metro Fm Music award in the Best Male category. (3:15pm – 3:45pm)
TungFu Poetry Slam (4 -6pm) -3 poetry collectives will display what a proper poetry slam should be – The ultimate marriage of written and performance poetry on a competitive stage. Words, time and an unforgiving audience – verbal combat has never been this epic. The participating poetry collectives are TheMissinGap (Afurakan & Blast), Likwid Tongue (Flo Mokale and Quaz Roodt) and Tower Of Thought (Jeffrey Tshabalala and Sakhile Gumbi).
#POETRY IS! (7 -11pm) – The main event will be a multi media showcase of various generations of spoken word and music through prominent and enduring poets and musicians. The uncompromising line up will include Tu Nokwe, Kgafela Oa Magogodi, Ae Ballakisten, Phillippa Yaa de Villiers, Kabomo (Metro FM Music Awards 2011 nominee), Mak Manaka, Natalia Molebatsi amongst others.
"It will be my honor to participate and support a good course with pure intentions" Tu Nokwe
"With sharpened tongues words shall bleed …. Here is to a legendary war of words … AAAHHH!!" Flo Mokale – on his participation in the TungFu Poetry Slam
The Word N Sound Festival is an offshoot off the Word N Sound Poetry and Music Series – a platform for the expression of spoken word, not so much a commercial venture as an attempt to make a positive impact on arts and culture scene in Joburg city.
The Word N Sound Poetry & Live Music Festival is proudly sponsored by Ae Ballakisten, Mageu No1 Smooth and GearHouse SA.
For more information about the festival, full performance line and schedule, artists' profiles, videos and photography and background on the Word N Sound Poetry and Music Series, please visit www.wordnsound.com