It's 9am on a Wednesday morning and I'm doing a Usian Bolt out of the house with the intention of making it to the taxi rank and catch a taxi that will get me from Sebokeng to corner Sauer and Bree Street in 55 minutes. I, along with Tebogo and Karabo, have an interview with the one half of  Unreleased Record – Young Nation. Because the digital publication we work for is such an important one the forces of good seem to favour me and ensure that there no traffic impediments as the taxi dashes to the City Of Gold. When I get to Klip Coffee Shop, where the interview is scheduled to take place, I find that Tebogo and Karabo have ordered and I so I do like wise but only after I was star struck by the sight of the legendary guitarist, Vusi Mahlasela, who, from observation, was also conducting an interview.
After settling down and familiarizing myself with the morning's The Star headlines, a rather well built man wearing shades surveys the environment possibly looking for his would be interviewers. We make his aware of us and he proceeds to our table. Greetings along with firm hand shakes are exchanged. We opt to sit out side because of the chilly nature of Joburg winter mornings. Karabo, the brain behind the magazines, gives Young Nations a brief history of the publication and what we are about. And so we begin to understand the thoughts of a young nation.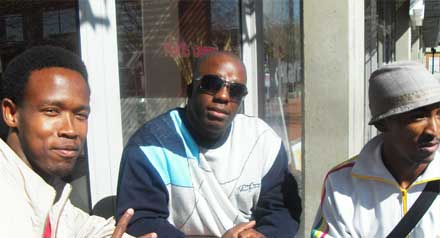 Khaya: Where were you born and were did you grow up?
Young Nations: I was born in London, raised in Los Angeles and I also spent time in South Africa in the 1980s, particularly in Gugulethu( a township in Cape Town).

Khaya: Most of us know you via your stage name but obviously you have an indigenous name. What is it?
Young Nations: My original Zulu name is Zosukum'izizwe which means nations shall rise, hence the name "nations".
Khaya: One thing that we can't ignore about you is your father's (Bab' Mazisi Kunene) presence. He is a world renowned poet (and he interjects)" revolutionary, activist."How much of an influence was he on you as far as going the artistic route, particularly hip hop?
Young Nations: He was very influential. He bought me my first key board. I was playing piano and writing. All four us, my two younger brothers and sister, were always writing. Our upbringing was one where we were always aware of what was happening especially back home. We learnt to protest before we could walk.
Khaya: How then does that lead you to hip hop?
Young Nations: Two years ago UNICEF named hip hop as the 'voice' of the underprivileged and youth. We knew that  a long time ago. Hip hop was like a newspaper for the ghetto. You get someone like Tupac Shakur who took on the story of Natasha Hollings, who was shot at a convenient store by an Asian owner who thought she was going to rob him. I never knew of Natasha until Tupac spoke about her. Public Enemy and other groups started using the music as a means to communicate. So, me being who I am, I grabbed on to it. I liked it because it wasn't just talking about the consciousness but taking into consideration the violent environment.
Tebogo: With hip hop, when did you start and was it here in South Africa or that side?
Young Nations: It started when I was young. I remember I had a song titled "Black gangster rap" but it was all about consciousness. But now having matured in my music I'm able to shape it in a way that people can understand.
Khaya: One of the earliest songs I heard you on was on AK's (Yfm) show. It was "Mr Hustler". How did that come about?
Young Nations: Eeer…That track came about when I was in New York. My first album I recorded with Megahertz, he produced for Bad Boy, Jay Z/R Kelly, Nas and Busta. I was living with him and he had a studio. One day we were watching Cops. He sampled the drums from the "Bad Boys" (film theme song). That hustler track was me getting on a hustle tip and saying, "you got to do it for yourself".
Tebogo: A lot of rappers are known just for rapping. Is there anything else that you do other than rap?
Young Nations: I do a lot. I own a television production company. We produce content for DStv and got 3 shows on African Magic (2 of which he hosts).
Tebogo: How did you get to work with CNN on the "Inside Africa" hip hop ad?
Young Nations: Good question. Basically with the CNN hip hop, which is the only hip hop ad, Jay Z and Nas have never done one. We have a website – unreleasedrecords.com and we kept it updated. So, CNN 'hollad' at us and said they had an idea they would like to develop for I.A. We started off with the recording the song( with Snazz) then we sent them the song. They liked it so much they wanted to shot the ad in South Africa.
Tebogo: Is it still doing the rounds and when was it recorded?
Young Nations: A year ago. It's up to them when to play it. My mom, when she was in China called me and said: "Hey, I just saw your video CNN." With the "Win" track, CNN came and profiled it as the anthem of the youth in Africa.
Khaya: How was it like working with Ntate Ray Phiri and greater Stimela as a whole?
Young Nations: With Ray Phiri, we had an idea of redoing a classic South African song and Draztik wanted to do something different and basically it came down to "Zwakala nganeno". At the time my deal was a partnership between Gallo and Unreleased Records and the CEO of Gallo at the time, Sipho Sithole liked the track and said: " Why not get Ray to do the song?" (Tebogo cuts in), "Year, I remember you saying you didn't sample it."(YN continues), "Brother Ray says to me: "Go and speak to your ancestors before you do this song."
Khaya: You shot the video in Kwa- Mashu(Township in Durban), right?
Young Nations: Shot it in Durban, Kwa-Mashu, uMlazi. The video was supposed to be shot in GP but I refused. In fact, I went on my own and got KZN Tourism to co- sponsor it. We got accommodation from Sun Coast Casino(it was his birthday on the day of the shoot. So, you can imagine the after party).
Khaya: You having grown up in different countries and coming to a South Africa where many people aren't or weren't exposed to the greater world. How did you deal with identity questions and people wanting to know who you are and given your different accent?
Young Nations: One thing about people in Mzansi is that they probe everything. But I know who I am. My traditional home is in eMahlongo where we are involved in a community library project with the Kunene Foundation. (He gets props from us for the library)
Khaya: We recently had the SAMAs. What's your take on the hip hop category?
Young Nations: I don't know, man. Award shows, never really know what's going on (laughs). I don't want to be saying so and so is more deserving than someone else. Next time it may be me. Even with the Hype Awards, more people were up in arms. Not to avoid your question, but I look at the industry wholistically. Even mistakes are good for the industry, if they are going to help us move forward.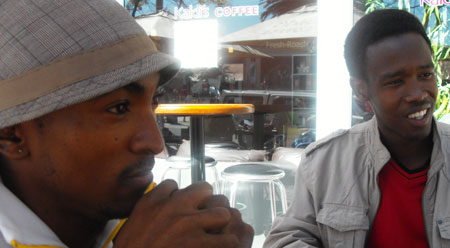 Tebogo: With your second album you worked with a diverse number of artists.
Young Nations: I got Intra, 985, F Ezie and Husien. In fact, I'm shooting the "Skillz" video tomorrow(last Thursday) with Proverb. Basically with this album the foundation is basically our interpretation, as Africans, of popular culture. The United States Of Africa album is our coming into the world and saying who we are.
He also mentions how the world always uses the stereotypes of Africans such as half naked people and dictators to sell their products to the world. One of the ads that come to mind is the recent one by Coke where they choose the darkest skinned person to fit it into their dictatorship ploy. Nations is of the view that we as Africans must not be afraid of using such stereotypes to our advantage because that's clearly how the world perceives us but says that we must also show the seldomly promulgated side too.
Tebogo: You know the stereotype that black youth don't read. Do you read?
Young Nations: I read a lot. I'm comfortable enough that my writing will come out the way it's going to come out.
Khaya: The entertainment industry is very cut throat and we are forever reading of its tragedies. How do you remain afloat, if you do?
Young Nations: (Laughs) I do. I wouldn't be here if I wasn't. You got to have a belief in something. You got to have integrity. No one is perfect but at same time you could at least try. It's the little bit of that effort that might save you. A business friend of mine told me that determination is the greatest nation in the world.
Tebogo: Who is Unreleased Records?
Young Nations: It's Draztik and myself. We previously had Cashless Society. We still do work with Snazz. We also have Imbube, 985, F Ezie and we have a relationship with Nyambz. (albeit independent)
Tebogo: Having being raised by both parents and knowing the rapper stereotype as being players. Do you have plans of settling down with a family?
Young Nations: Right now I'm in focused relationship. My partner is someone in the entertainment industry ( SABC Sports anchor, Carol Manana). I'm good. (Laughs)
Tebogo probes further about Nations' 'goodness', "Are you seeing yourself walking down the isle?"
Young Nations: Everybody would love to know that. (We all burst out in a laughter of agreement) I think I'd tell Carol before I tell you.
Khaya: Do you follow any sports?
Young Nations: Yeah, American football. Soccer (Manchester United. Much to my happiness, afterall Chelsea had just dethroned Man U from the helm of English football) I obviously follow Basketball and I also do boxing.
Khaya: Manny "Pac Man" Pacqioa or Floyd "Money" Mayweather Jnr?
Young Nations: That's a hard one to call. Money has never lost a fight. So, Manny has his work cut out for him. Manny has been hot last year. Will he be by the time they possibly meet? (recent reports say negotiations have started for the fight and a September/November date is being earmarked) To be honest, I think I'd back Mayweather.
As we all say our thanks to Mr Kunene, one can't help but want to see more of these kind of celebrities. You know, the grounded kind. People who have a planned schedule of where they want to go and how to get  there and not forgetting to be human. Many a time, the celebrated of our society forget that they too are flesh and blood and are susceptible to the same disappointment that visit the rest of us. Young Nations, a brother who gladly carries a family legacy, is self assured and is out to get his. He is, afterall, the "Mean Mr Hustler." Great things await this entrepreneurial new young African emcee who realises that the best way the continent can move forward is through the United States of Africa initiative.

Thoughts Of A Young Nation

,